So you're thinking about braving the wild frontier of Black Friday shopping. You'll join millions of Americans who will brave the cold and crowds with the hope of getting $10 off of a television, or a gaming console, or a bookshelf. Before you dropkick Tammy the soccer mom for that Ninja Blender though, you might consider this: online sales are projected to surpass brick-and-mortar sales this Black Friday.
In 2017, brick-and-mortar stores surpassed e-commerce sales over the Black Friday sales period, earning 31.4 million shoppers to 20.9 million online. That number does not seem as if it will hold. According to Ryne Misso of Numerator, "The number of eCommerce gift trips on Thanksgiving Day increased by almost 20 percent in 2017." It's almost certain that the percentage will be primed for an increase.
The convenience of e-commerce will make it much, much easier to stay in, huddled by the chestnuts roasting on an open fire. Why go out into the cold and deal with WWE levels of human violence and outrage when a few clicks of a mouse will bring a product to your door in two days or less? They can come gift-wrapped too.
If you're straddling the line between e-commerce store and brick-and-mortar store, or if your brick-and-mortar store also sells products on your website, you may consider punting on having your brick-and-mortar store open. A record number of stores have announced closing their brick-and-mortar locations for Thanksgiving, a move that would be shocking if not for the rise of online sales. Clearly, the cost-benefit analysis of opening on Thanksgiving is not worth the time of several large retailers, such as Academy Sports + Outdoors, Costco, and TJ Maxx.
So if you've been gearing up for having to give excellent customer service to these guys: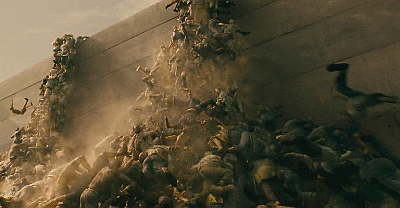 You should probably consider relying on online sales. The numbers of online customers are increasing, so maybe punt on opening your brick-and-mortar store this Black Friday, instead of punting Tammy the soccer mom.